Join Our Events
Throughout the year we offer Events & Exclusives both in the office and online.
If you would like to be kept up to date on our next event, please let us know. We'd love to have you join us!
Sign Up Now
"Special Offer Spring Sale"
🌷𝑺𝒊𝒏𝒈𝒍𝒆 𝑽𝒊𝒔𝒊𝒐𝒏 𝑳𝒆𝒏𝒔 𝑺𝒑𝒆𝒄𝒊𝒂𝒍➛$99-$169
🌷𝑷𝒓𝒐𝒈𝒓𝒆𝒔𝒔𝒊𝒗𝒆 𝑳𝒆𝒏𝒔 𝑺𝒑𝒆𝒄𝒊𝒂𝒍 𝑷𝒓𝒊𝒄𝒊𝒏𝒈➛$199-$289
Select frames are included in this price! This is the perfect opportunity for 2nd pairs, back-up pairs, sunglasses or just to change up your look!
Sᴇʟᴇᴄᴛ Fʀᴀᴍᴇs ᴀʀᴇ ғɪɴᴀʟ sᴀʟᴇ ᴄᴀɴɴᴏᴛ ʙᴇ ᴡᴀʀʀᴀɴᴛɪᴇᴅ
Dɪsᴄᴏᴜɴᴛs ᴄᴀɴɴᴏᴛ ʙᴇ ᴄᴏᴍʙɪɴᴇᴅ ᴡɪᴛʜ ɪɴsᴜʀᴀɴᴄᴇ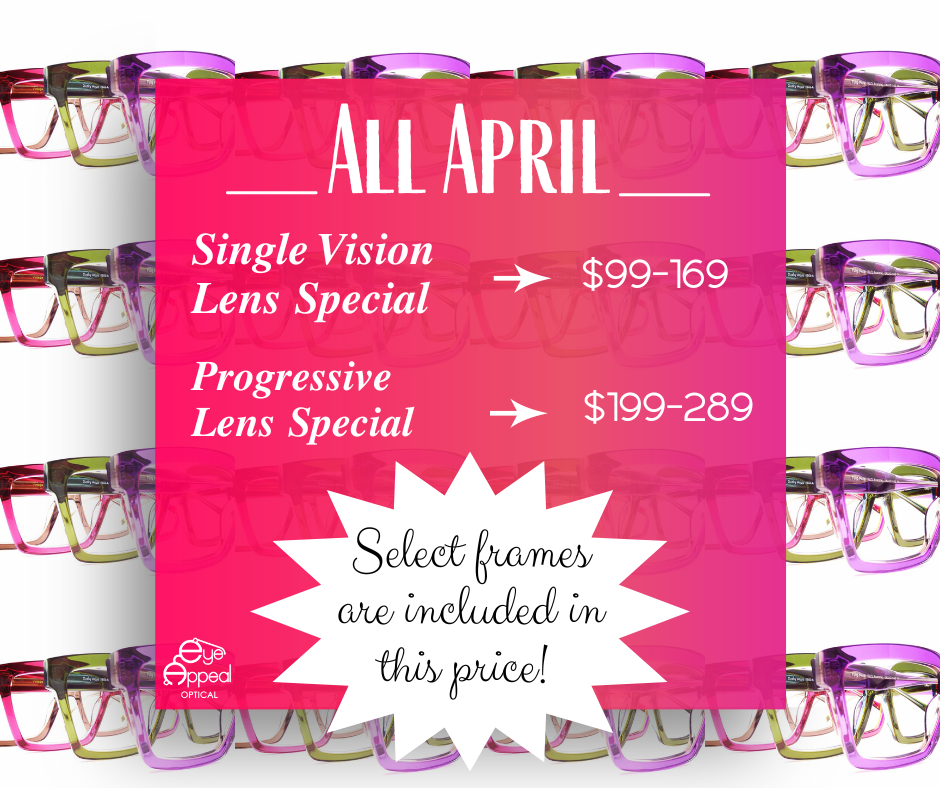 December Appreciation & Holiday Event
We had a fantastic time at our ꕥSURPRISE VENDORꕥ holiday appreciation event. Kate Spade frames were featured and friends enjoyed food, fun and giveaways. It was a great afternoon of gratitude, fun and holiday spirit!
A Date with Sospiri
Arguably our most popular–and definitely our most sparkly– event of the year, A Date with Sospiri did not disappoint! Food, friend, gifts and a whole lot of sparkle! Truly an event to put on your calendar. 
Celebrating Traction & Introducing 𝕏𝕀𝕋
In October we celebrated the one-of-a-kind style of Traction Eyewear and XIT! Our guests had crazy fun with these new frames, adding some individuality to their eyewear collections.
A Date with Faniel
This 1-day-only, private viewing of the limited-edition frames created by Faniel booked out almost immediately and was so much fun! I'm sure we'll hold another Date with Faniel–so check back and mark your calendar.
Happy Hour Sunny Days Event
Co-hosting the Happy Hour Sunny Days Event was a ball! Taking place in the Eastdale Village at ⚘Daffodils Gift Shoppe⚘ this event offered loads of fun products, drinks and SUNGLASSES featured by Eye Appeal.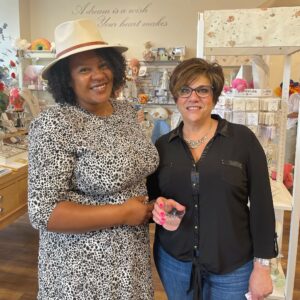 ✿Mother's Day Exclusive✿
We celebrated Moms, about-to-be Moms, Moms who are Grandmas, Moms who are Dads, Gals dreaming of being Moms, and Kids who have Moms. In other words, everyone could enjoy this exclusive.